Curlkarma Energizing Shampoo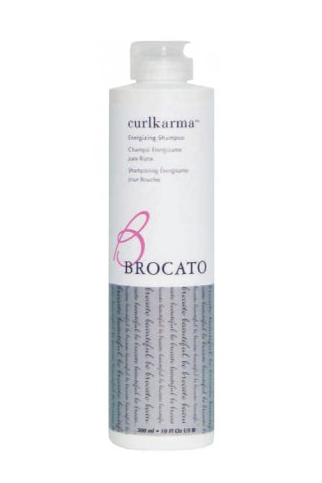 Curlkarma Energizing Shampoo
Extra Bounce and "Life"
Natural curly / curly-by-choice look
Retain "springy-ness"
Add definition
Sulfate Free and Paraben Free!
When is Curlkarma Energizing Shampoo used?
This energizing shampoo can be used by those who have curly hair who want to maintain their curl-retention memory. For those with curls-by-choice, this shampoo helps to keep them "activated" throughout the day.

What makes Curlkarma Energizing Shampoo unique?
This energizing shampoo has Brocato's exclusive "Curlscience" technology. Humidity resistent, it is anti-frizz even in the most extreme conditions. This shampoo offers a moisture-balancing blend of nourishing ingredients. It is an all-natural, lactylatebased surfactant system that is ultra-mild and biodegradable.
INGREDIENTS
Curlscience Ingredient Complex Mirustyle CP
For curl retention and memory plus anti-frizz.

Bois II
Enhances moisture content of the hair while assisting in the repair of split ends.

Barshine 147
Shine without silcone!

Quaternized Rice Protein
Strengthens and moisturizes while visibly improving body and shine.
DIRECTIONS
Apply to wet hair.
Note: this shampoo's lather is low foaming! For best results, leave on for 1 - 2 minutes for shampoo to impart the active ingredients. Rinse well with water.

The Blendable Options:
For smoother, more conditioned hair -
1 part Saturate Intensive Moisture Shampoo + 1 part Curlkarma Energizing Shampoo