Cloud 9 Hotshapes Thermal Protection Spray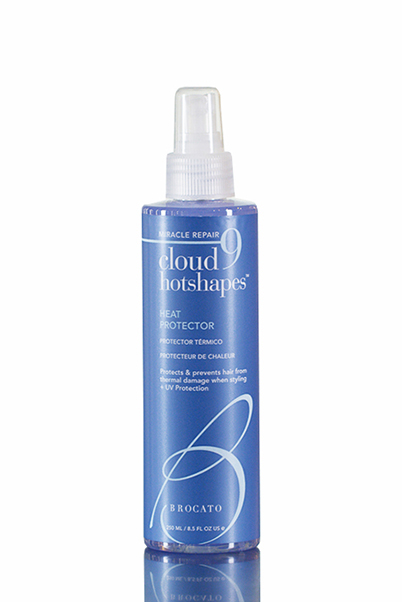 Cloud 9 Hotshapes Thermal Protection Spray
Flat iron "magic"
Creates super reflective smooth surface
UV protectors
Heat activated
What is Cloud 9 Hotshapes Thermal Protection Spray unique?
A heat-activated, non-sticking spray, it assists in protecting and helps prevent damage to hair when styling. It creates a super-reflective smooth surface to leave hair silky and shiny.

What makes Cloud 9 Hotshapes Thermal Protection Spray unique?
Formulated with Brocato's exclusive Cloud 9 Miracle Repair Complex™, a special blend of healing nutrients, fortifying plant proteins and UV protectants, proven to leave hair conditioned and assists in repairing without added weight. Body, bounce and shine take over!
INGREDIENTS
Hydrolyzed Wheat Protein
A moisturizing and conditioning agent that assists in repairing the damage that occurs from environmental and chemical treatments. It improves the overall feel and appearance of the hair.

Sunflower Seed (Heliogenol) Extract
Assists in protecting hair from the harmful effects of UV radiation by limiting the production of photo-induced free radicals.

Hydrolyzed Keratin
Enhances optimum penetration of the Keratin protein, imparting gloss, strength and texture.
DIRECTIONS
On pre-dried hair, spray section-by-section and apply heat to create a super-reflective, smooth surface with your flat iron or silky, shiny curls and waves with your curling iron.

The blendable Options:
For enhanced texture and shine -
1 part Cloud 9 Hotshapes Miracle Repair Flat Iron & Curling Spray + 1 part Volumizing Tonic Spray + 1 part Holdon Styling Gel